In Memory
Teresa M. (Terry) Schirmer (French)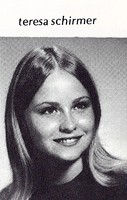 Deceased Classmate: Teresa M. (Terry) French
Date Deceased: 5-7-2010
Age at Death: 58
Cause of Death: Five year battle with cancer
Classmate City: Tucson
Classmate State: AZ


Survived By: Husband of 33 years George French
Son-- Kristopher (Amy) French and their son Boston
Daughter-- Kayla (Josh) French and their daughter London
The information is from the AZ Daily Star obituary.
Terry and I communicated a couple of times in the last year and a half about this reunion, she was looking forward to it. She was doing some research for Paul Fife for the reunion. Our world is not as bright without Terry in it.
If you would like to contact the family, you can do so through email: apc@the river.com
-reported by Carol Holly