In Memory
Catherine Hall (Classon)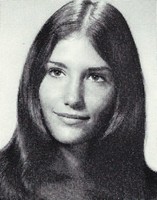 Deceased Classmate: Catherine Hall
Date Of Birth: 11-17-52
Date Deceased: 9-7-2008
Age at Death: 56
Cause of Death:
Classmate City: Tucson
Classmate State: AZ
Classmate Country: USA
Survived By: Cathy is survived by her mother, Janet Hall; sister, Lynn (Rand) Tavel; brother, Jace (Chris) Hall; nephews, Adriel and Zachary Tavel; aunt, Katherine and cousins.

I was going to make a run to Tucson to see an old buddy and after hearing from him that a person I had liked very much from high school days had passed, felt compelled to look up some people from my old neighborhood while I was in town. In my search for these people discovered that Cathy was gone. We used to be on the same neighborhood swim team and I had one of those little boy secret crushes on her. For me she was a essence of beauty and allure, which resulted in reducing an already insecure little boy to an obnoxious mess whenever in her presence. I am indescribably saddened that she did not find the love of her life and experience children and then grand children. She will forever occupy a part of my heart and memory.
--Mark Henrikson