In Memory
John Ball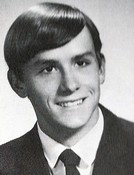 Date of Birth: 9/15/52
Date Deceased: 3/4/87
Age at Death: 34
Cause of Death: Complications from AIDS

After High School, John attended NAU and then Colorado State University where he received a Phi Beta Kappa academic award. During several summers while in college, John returned to Tucson to coach the Indian Ridge Swim Team. John used his swimming talents to mentor those in the neighborhood, and many teammates improved under John's guidance. John loved coaching and put his heart and soul into making those fun-filled and successful summers.

While he lived in Ft. Collins, John opened up a small successful sandwich shop (Avogadro's Number) which was several blocks from the University. John then decided to venture into the last frontier, and sold his share in the shop and moved to Fairbanks Alaska. Avogadro's has changed and expanded over the years, but is still going strong at the same location where John opened it.

After several years in Alaska, John moved to the warmer climate of California where he lived for about 10 years in the Los Angeles area before passing away all too soon.

John has been very much missed by his parents, siblings, nieces, nephew and friends. He will always be remembered for his quick-sharp wit, keen intelligence, sense of adventure and ability to excel at all he attempted.